The Love Child of Frida Kahlo and DMX: An Interview with Safia Elhillo
By Kameelah Janan Rasheed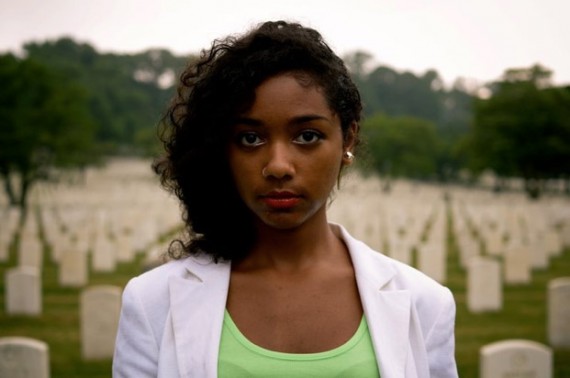 Image: Andre' D. Wagner
Somewhere between forced iambics, obligatory revolutionary regalia, exaggerated movements, and strangely timed inflection, I decided that spoken word was the unfortunate anachronism that all responsible citizens had the responsibility to contain and neutralize. I'd much prefer to sit with a stack of Harryette Mullen or Yusef Komunyakaa than subject myself to another smoke filled back room with a dreaded man, lathered in shea butter, yelling at the audience about African queendom or performing a not so cleverly disguised poem about his girl's multiple orgasms.
Enter Safia Elhillo. Safia's performance pulled me back into the world of spoken word. The five-foot-something poet walked on to the stage in a pair of leopard print shorts, a v-neck white tee and a curly pony tail bouncing atop her head. I don't remember all the words, but I remember feeling a strange discomfort—not borne from disgust, but from an eerie feeling that she'd articulated my fears. She touched something in me that I thought I buried—fears about being a nomadic woman with no roots, fears about not having the elements of femininity that would make me marriageable.
After her performance, Safia was swallowed by fans and fellow poets. The small gallery space, nestled behind a specialty burger spot, couldn't hold everyone so the D.C. crowd spilled out onto the sidewalk. This is where I managed to catch up with her. Rather shyly, I approached to buy her chapbook, Vandalism?! …and other ways to make people see things, and asked if I could interview her. She agreed and scribbled her email address and website on the back of my book. On my way home, I chuckled a bit when I saw the web address, oddballsdontbounce.blogspot.com. They definitely do not.
The 21-year old poet, now ranked 7th in the Women of World Poetry Slam, has shared the stage with Sonia Sanchez, the late Gil Scott-Heron, and Black Thought and ?uestlove of The Roots. She describes herself as "Sudanese by way of Washington, D.C., by way of Cairo, Egypt, by way of everywhere and nowhere for long." Friends and admirers alike call her something of a thunderstorm, frighteningly beautiful and unexpected. Others say she is a mix of Frida Kahlo's androgynous energy and DMX's aggressive demeanor. Whatever the case, the self-professed lover of all things Wu-Tang splits her time between working on her upcoming chapbook The Life and Times of Susie Knuckles, publishing an e-chapbook called Heirlooms, performing all over the Northeast, and teaching art classes at Riker's Island. On top of all this, she is a full-time student at NYU's Gallatin School, pursuing a self-designed program called Poetry as a Tool for Therapy and Literacy.
In the late November cold of Washington Square Park, I sat down with Safia to chat about life, words, and everything in between.
But, before we jump into the interview, take a moment to listen to one of her poems:

"Questions for John Coltrane, from his saxophone"
Q: How did you become a poet…or how did poetry come to you?
Elhillo: It's kind of been in my family for a while. My grandfather writes Arabic poetry. My aunt writes a lot. She does some poetry. She writes some fiction and she is a playwright. My mother used to write when she was younger, but she decided to give that up and get a real job. So I've always been exposed to it, but as far as how I came to it, it always came in cycles and I guess this most recent cycle began my first year of high school. I don't even know how that started. I was just reading a lot of poetry and a lot of fiction and decided that I would just try it for myself. I was also not much of a journal keeper or anything like that so poetry was my venture into writing anything for myself.
Q: What is the very first thing you remember writing?
Elhillo: It was all about boys and how they did me wrong. I was in high school.
Q: That's always a good trigger. On the note of high school and boys, how would you describe your upbringing?
Elhillo: I was raised in a single-parent household. I am first generation Sudanese-American so I have huge extended family back home, but in the U.S. it's just me, my mother, and my brother in the house. I am the oldest and my brother just turned 17. My mother raised us herself, but since she had a full career she was always making sure we were fed and at school on time, but it made us pretty self-sufficient because we knew it didn't make sense to ask my mom to do anything more than what she was already doing. She had to travel a lot for work, so sometimes my grandparents or my uncles would come in and stay with us. We go back to Sudan once a year and I see all of my cousins so that is always a lot of fun.
Q: I used to hate spoken word. Hated it. But you made me believe again. A particular poem that struck me is one about Amy Winehouse. What compelled you to write about her?
Elhillo: I just always loved Amy Winehouse's music and her, her character, I guess, was always so tragic to me. I guess a lot of people "hollywoodized" the tragedy of it like "oh my God, that's so sad and it's so beautiful," but it wasn't beautiful, it was really fucked up. I always parallel her and Adele; I love both of them a lot, but I feel like Adele is more of the saintly, pure–the wife whereas Amy Winehouse was the other woman, the woman who was never woman enough, the woman who was never worthy of empathy or sympathy. I felt like she was demonized for that because she was upfront about all the things that were wrong with her. I don't know, maybe not to that extreme, but I recognize a lot of myself in that I've never felt like the wife character, so I found that element of Amy Winehouse really relatable. When she died, a lot of people were saying really terrible things and that is why I wrote about it. I would have felt fine to sit with my thoughts, but I felt compelled because a lot of people were treating it as if it wasn't a human life that just ended.
Q: The idea of the wife character is something I noticed in your poetry. Do you feel comfortable not being the wife character or do you long for that in some way?
Elhillo: I don't necessarily have a problem with where I am. I feel like I have to do a lot of reconciling with this character of "the wife" because I don't feel like any of the women around me are like that so I don't even know what that is. It almost doesn't feel like a three dimensional character. I feel like I recycle this line in a lot of my poems–"I come from a long line of women who look like nobody's wife". My mother was married, but she's divorced. My grandparents are still married, but my grandmother is very much the head of the household. I feel like I am very much the mother in a lot of ways, in that I mother all of my friends, but I think, I don't know, someone told me that I have an emasculating personality so I think that might be part of the thing that makes me not see myself in the role of "the wife" because I am not very docile. I'm not necessarily opposed to the institution of marriage. I'd be fine being married; Sudanese weddings are awesome, but I don't feel like the character.
Q: You are now at NYU's Gallatin School for Individualized Study, where students create their own program. What program have you designed for yourself?
Elhillo: The working title now is Poetry as a Tool for Therapy and Literacy. Basically it functions in the same way as a double major where half of my classes are more toward the therapy side and the other courses are more on the literacy side. This semester, I am taking a class called Lyrics on Lockdown, where we have to formulate art workshops to teach at Riker's.
I've taken a couple classes on the psychology of memory––how trauma memory works and how that can be reconciled through storytelling. This class played a big part in founding the therapy aspect of my major. The literacy portion of my major only came in last semester when I took a class called Literacy in Action, where we learned a lot about the politics of Adult Education in America and ESOL(English for Speakers of Other Languages) programs. This got me thinking about poetry in a new light because those of us working in the Language Arts, we take language and fluency for granted and the fact that you have to have a basic fluency to work with language of this higher plane made me feel extremely guilty because when I first moved to the United States my English wasn't that good, but I picked it up quickly. Because it came pretty easy to me, I took it for granted.
Q: Do you think you want to stay in education?
Elhillo: I like working with high school kids, but working with adults has been fun too, so I'd like to see where that goes.
Q: Do you have any writing rituals? Do you write in any particular place or in a special notebook?
Elhillo: It's more of whatever happens in that moment. Part of the college experience is that I have to move every few months so I do not have a specific writing place, but one thing I have tended to do recently is that, when I am working on a poem, I can only listen to one song on repeat, because I get distracted by track changes. What I've been doing for my creative writing course this semester, which has carried into the writing I do on my own time, is keep a notebook of words and lines I find interesting. Whenever I sit down to write, I flip through that book, because it gives me a palette to work with instead of staring at a blank sheet of paper and thinking "I should probably write a poem now".
Q: There's a collaborative poem of yours on YouTube called "Mosque". So many poets have responded to 9/11. What do you feel is different about this piece?
Elhillo: That poem actually started out as a solo piece of Tonya's and it was for the NYU Slam team. It was getting down to the wire and we needed group work, so we figured we'd take the poem and take it apart, rearrange it, and add new stuff without losing the integrity of the original piece. What I appreciated about Tonya's solo poem is that while it was about Islam and Muslims and being Muslim in America, I didn't feel spoken for, which is not something I can say about a lot of work by non-Muslims about Muslims. Sometimes my response is "I appreciate your interest, but what gives you the right to say that?" With Tonya, I didn't feel spoken for. When it came time for Michelle and I to join in on the poem, I think I was kind of speaking as a Muslim, but we all kept our own voices which I was really proud of.
It was Michelle's idea–flipping things on their head. There was one line that said something like "Did you leave steeples behind for every man you drug out of West Africa?" "If this was America doing this to another place, would the reaction be the same?"
Because I still don't feel fully American, I almost feel like it wouldn't be my place to ask that, because I don't feel like I know enough about America to ask questions like that. Her [Michelle's] place as an American woman with her awareness of the outside world, I really appreciated that she was able to turn the situation on its head and address it from that angle.

–Excerpt from "Mosque"
Q: What makes you feel like you don't know "enough" about America?
Elhillo: I think just maybe because I grew up in a Sudanese household. I grew up in a Sudan within America. I would go to school in the outside world and have American friends, but I would come home to a house that smelled like incense and rice. And you know, we don't speak English in my house. I felt like I'd have a fraction of the American experience when I left the house, but when I got home it was not America anymore.
Q: A lot of your work feels organic. Is there anything you've ever regretted writing? Anything you are hesitant to write about?
Elhillo: I don't know about regret necessarily, but some of my early poetry was terrible. I keep it around because it's humbling and funny. Hearing from the person I was then–it's funny and it's cute. I guess that is why it seems like in some of my poems, I am talking to my younger self because I have so much tangible evidence of my younger self. As far as things I do not write about…I have a terrible memory so it's not as if I am like, "I am going to hold on to this subject, then when I have time, I am going to write about x." I think because I am not really able to plan topics, I don't necessarily know the limitations. I don't think there is anything I would not write about.
Q: Your work often enters an intimate and personal space. How has your family responded to your work?
Elhillo: Up until late this summer, my mother hadn't heard a poem of mine since almost 2009. Up until 2009, I was still hiding a lot behind politics and culture and all these big, loud poems. After I let that go and started writing more personal stuff, I ended up … well, when it comes down to it, all of my poems are about my mother so it's hard to show someone work that is about them. I am not sure how it came up. I was hanging out with my mom a lot this summer, which was nice. I think the older I get, the more I am able to just hang out (with my mother) as friends. We were walking around, we'd just had dinner and she said, "How come I don't see your poems anymore? You used to show me your poem every time you wrote a new poem. Are you too old, too successful?" And she tried to buy my book and I was like, "I don't know…"
Q: You blocked your mom from buying your chapbook?
Elhillo: So, I did not start telling my mother that I had been dating until early this summer, so if I had given her the book before that, then that's a whole lot of incriminating stuff in there. She would have been like "Who is that? That sounds like a man's name or are you a lesbian?" I felt like first we had to cover all the preliminary stuff like, "Yes mom, I've done this that and the third and now that you know this, you can read this book of poetry."
Q: Tell me about your love for Wu-Tang.
Elhillo: I was just talking to my friends yesterday about how Wu Tang has shaped my taste in men.
The way they are with one another, the humor. I was a tomboy growing up. I hung out mostly with my male cousins. They taught me how to fight. Growing up, my friends were mostly guys. Wu-Tang just reminds me of the dynamic between my friends and I so I find that relatable and wonderful. I think the thing about them is that they are all really smart, but they are not pretentious about their intelligence which I really appreciate especially being at NYU where everyone wants to be the first to list how many books they've read or recite passages they've memorized.
Especially in the poetry community, a lot of people think that because we write poetry and are artists and know what's going on in the news…that it makes us less human and less flawed. Not to say that members of Wu Tang don't make art and read the news and know what's going on in the world, but they are very at peace with the balance. I see a lot of myself in them. It's true, I do write poetry, I am a little old lady who loves to drink tea. I have CNN on my phone, but I do dumb things. I curse like a sailor. I think that balance is really important with knowledge, because it's a lot more realistic.
People meet poets and they expect us to be introspective peace queens who talk about the universe.
Q: Are there other musicians or visual artists that inspire you?
Elhillo: I am obsessed with Frida Kahlo.
A friend the other day told me that I was the perfect combination of Frida Kahlo and DMX. I think that is nicest thing anyone has ever said to me. I am still riding that high. Definitely Frida.
Musical artist? Well, I have been listening to a lot of Doomtree the past few weeks. A friend of mine took me a show a couple weeks ago. They are a hip hop group out of Minnesota and I have a super girl crush on Dessa who is the only female rapper in the group. She is like to Doomtree what I want to be to Wu-Tang. She is the only rapper and she started out as a spoken word poet. She was on the Minnesota slam team a while back. She also sings; that's what I was listening to before I met up with you. That's the other element of balance that I appreciate–she can go into these beautiful melancholy songs, then drop a 16 on it; she can spit it and there is nothing dainty about the way she spits. The crafting of the lyrics speaks to her experience in poetry then she'll flip it and sing a hook and it will be graceful and gentle and beautiful. I am really inspired by that. Last week, I spent a day going through her song lyrics and reading them as poems because they are just that good.
Q: Frida's androgyny and confidence makes me very curious. What about her intrigues you?
Elhillo: I am obsessed with androgyny. The balancing of feminine and masculine energy–I think she does that really well. Masculine and feminine has nothing to do with being manly or womanly. A lot of times I am told that I give off a masculine energy which doesn't make me any less of a woman. Frida's whole body of work is just a beautiful exploration of what it means to be a woman and I feel like every time she figured out what it meant, she breaks it down and starts all over.
Q: Speaking of figuring it out just to break it down and start all over, are there any future chapbooks we should look out for?
Elhillo: I am working on a second chapbook. The way I was going, I thought I would be done by this fall, but I kind of want to sit on it. "Vandalism" doesn't even feel like my first project because there was a lot of old work in there. I would have felt guilty putting out a book of new work with all this old work sitting here. "Vandalism" was like me compiling all my old work and putting it out. It was what I needed to do to get to square one. Now, I am figuring out what I need to do conceptually with this new book. I have the skeleton for it. I am choosing poems, but also writing new stuff. It will be called "The Life and Times of Susie Knuckles". Susie Knuckles is my alter ego. I am really excited about it. My favorite part is the bio. I have my regular bio in the back of "Vandalism", but because "Susie Knuckles" is an exploration of alter egos, I am having two bios–one for Susie Knuckles and the other for Safia.
"Vandalism" was broken up into parts: nape of the neck, softer more personal poems, and shoulder blades– political, angry Safia poems. "Susie Knuckles" will also have these different parts. "Susie Knuckles" will be broken up into "Alter", poems about things that have changed me– mostly relationship poems and how these boys did me wrong; "Alter Ego"– I have been writing a lot more persona poems, trying to explore what it means to find myself, but in another voice; and finally "Altar", poems about redemption and a tribute to myself to say that despite all the things discussed in the poems that came before it, I am okay.
About Kameelah Janan Rasheed

Kameelah Janan Rasheed is a self-taught photographer, arts & culture journalist and educator based in Brooklyn, NY. The former Amy Biehl Fulbright Scholar to South Africa is the co-founder of
Mambu Badu
, a photography collective for women of African descent, an Assistant Editor of Interviews and Photography for
Specter Magazine
and a Visual Arts writer for
The Liberator Magazine
. Her writing has appeared in various publications such as The Nation (online) and Pambazuka: Pan African Voices for Freedom and Justice.  Her essay, "Lines of Bad Grammar" is included in the book
I Speak for Myself: American Women on Being Muslim
.  You can view her work at
www.kameelahr.com
.