Live: The Well&Often Reader at LaMama Theater
December 11th, 2012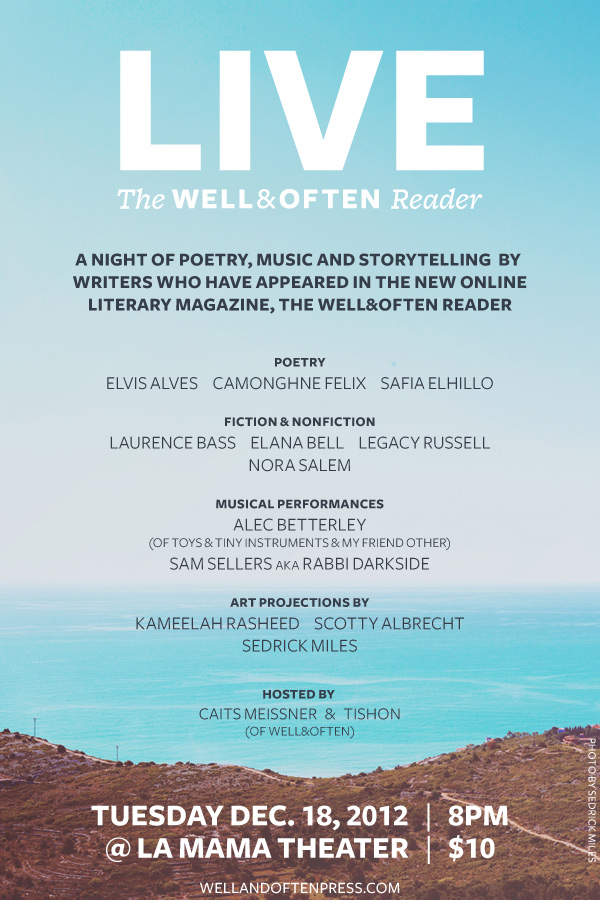 December 18, 2012 | 8:00pm | $10
LIVE! The Well&Often Reader @ Poetry Electric
La MaMa Experimental Theater
74 East 4th Street, New York, NY 10003
Facebook Event
Caits Meissner and Tishon present LIVE! A night of poetry, music and storytelling from writers who have appeared in the new online literary magazine, The Well&Often Reader.
Poetry by The Reader contributors
Safia Elhillo, Camoughne Felix and Elvis Alvez
Non fiction & fiction by The Reader contributors
Elana Bell, Laurence Bass, Legacy Russell & Well&Often Editor Nora
Salem
Performances by The Reader's musical essayists Alec Betterley (of Toys & Tiny Instruments and My Friend Other) & MC Rabbi Darkside
Art projections featuring the work of The Reader interview editor Kameelah Rasheed and featured artists Scotty Albrecht and Sedrick Miles.
Hosted by Caits Meissner, Founding Editor of Well&Often and Tishon, Founder and Creative Director of Well&Often.